Barnett Whitetail Hunter STR Crossbow Review
Whitetail Hunters STR Crossbow stands among the most powerful weapons for chasing the big games.
Barnett worked with the 22 years experienced engineers to giving rise to ultra-compact shooting systems. it is more versatile to use for youth to proficient and best for big games in or out of the range.
Although the STR crossbow is a little pricey but worth it. its heart-wrenching features as the step-through riser and trigger tech technology convinced hunters to buy it.
Ok enough! This article is detailing the accurate review of Barnett Whitetail Hunter STR Crossbow.
Barnett Whitetail Crossbow Specifications
| | |
| --- | --- |
| Weight | 6.6lbs. |
| Axle to axle (In) | 18.1/8" |
| Kinetic Energy | 118.6 lbs. |
| Speed | 375fps |
| Power Stroke | 15.7/16" |
| Trigger | Trigger Tech |
| Dimension | 34.875" L x 20.125" W |
| Ratings | 4.7/5 |
A Few Prominent Features
Frictionless Release Trigger Tech Technology
Includes Fiberglass Composite Step-through riser
Finger Reminder prevents accidental shots.
Arrow Retainer stops the dry firing.
Available with the integrated Crank.
Pros & Cons
Pros
Easy to assemble than other compound crossbows.
Includes excellent safety features, smooth trigger system.
More versatile to use for youth, best to hunt big games.
Compatible with the standard cocking devices.
Light-weight design.
Accessories with Barnett Whitetail Crossbow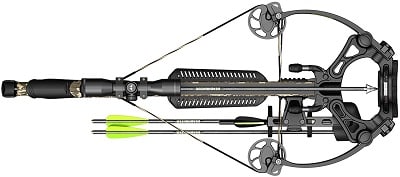 Crossbow Scope: 4x32mm multi-reticle scope covers 40+ yards and aims well.
Rope Cocking Device: High-quality rope used for cocking with the plastic handles.
Arrow Quiver: A light-weight arrow quiver that is detachable holds 6+ arrows.
Arrows: High-quality arrows 22 inches long best for the trail use and hunting.
Detailed Review of Barnett Whitetail Crossbow
Barnett Whitetail Crossbow is a smart and manageable weapon made-up with durable aluminum. Single-bolt assembly supports the frame and attaches its parts hardly to perform in the toughest conditions. it is compatible with the Barnett crack coking device, so reloading arrows is not an issue. We have detailed each factor of Barnett Whitetail STR Crossbow here and buyers would read.
Power & Response
STR Compound Crossbow offers 375fps+ shooting velocity that you can estimate, how deadly it is.
Barnett used a devastating camo and wheel system that equally distributes the force on arrows. Although, there are many powerful crossbows available that exceed its record still the sufficient impact is enough for killing the big games.
118ft lbs. kinetic energy compels the carbon arrows for more penetration even on the hardest targets.
Users Comfort
Barnett Whitetail Crossbow is exclusively designed in an easy to use pattern.
Since the crossbow is available with rope cocking devices, so, pulling the string is easier for youth. Barnett crafted the STR crossbow design with the divided foregrip for strengthened stability. It is also beneficial in aiming the target with a tripod or without it.
The state-of-art light-weight design doesn't cause fatigue on the arms. Durable limbs have attached wheels on both sides. The perfect positioning imperatively causes the light pulls but tough arrow speed. High-quality machined aluminum used for constructing the step-thru riser.
Noise Suppression
Barnett Hunters STR Crossbow offers decent power and accuracy without making noise.
It is designed for the silent hunting operations in states. The string cocking and releasing mechanism reduces the maximum noise and prevents irritations. It still has options for the bow dampeners, you can use these rubber silencers for more positive results.
High-Quality Optics
4x32mm multi reticle scope is an exclusive gif for the hunters.
Barnett Crossbow is available with the high-quality crossbow scope which is capable of clearing aim from 40 yards distance. The scope also includes brightness and hue control options for getting suitability with the environment. It needs little adjustment for the first shot then you can use it for a long.
Long-life batteries lead to a never-ending experience. You don't need to recharge even after long use.
Safety & Guards
Barnett STR crossbow is designed with both a hand-oriented grip and includes guards for accidental shots.
It features trigger tech for preventing the dry-fires. The foregrip is positioned after testing many times so that your fingers may be safe from the razor sharpened broadheads. Cocking the device is simple and easy with the rope cocker, it is also compatible with the crank cocking devices by the Barnett.
Frictionless release technology adds the free-floating roller between the sear and trigger. It offers a smoothly drivable trigger with a 3-pound pull for zero creeps.
Brand & Affordability
Barnett is the world's #1 Archery brand and has been producing durable products since 1962. It has been working with the 22 years experienced engineers for producing especially devastating weapons. Hunter's STR Crossbow is one of the most demanded weapons for hunting which is available for under 400$.
Ready to hunt Barnett's package includes 4×32 mm crossbow scope, 22 inches two carbon hunting arrows, light-weight detachable quiver, rope cocking device, and lube wax and 1 STR Crossbow.
Brief Summary of Barnett Hunters STR Crossbow Review
Barnett STR Crossbow is a blasting hunting weapon that features couples of exclusive factors. These extraordinary specifications aren't seen in any other crossbow in the same price range. It offers 370fps shooting velocity that is enough for producing a deadly impact on all games.
On the other side, the Barnett Hunters STR Crossbow package includes exclusive accessories such as 22 inches ling carbon arrows, a rope cocking device, lube wax, and one of the main quality crossbow scope. Barnett also focused on the safety of youth; its crossbow is available with the trigger tech technology which prevents the dry fire.
Important FAQs
What are the differences between Barnett Whitetail STR & Whitetail II?
Barnett Whitetail STR Crossbow is the newer model of II crossbow with the improved specifications. It includes a step-thru stirrup on the shoot thru the riser platform. Furthermore, there are several other factors such as trigger tech technology and divided foregrip available with this model that is not in the Barnett Whitetail II crossbow.
Does Whitetail STR Crossbow Comes with Cocking Device
Yes, the STR Crossbow is available with the rope cocking device. Cocking the crossbow is considered difficult for the youth but the STR model is also compatible with Barnett's Crack devices.