Manticore SAS Crossbow Review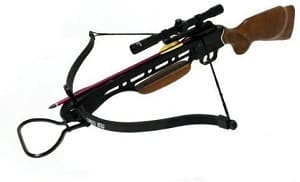 Manticore's SAS Crossbow is a ranged weapon designed for beginners with the basic specification. It is fully suitable for taking down the large games with the 150lbs. draw weight.
Hunter loved its wooden stock and the ultimate impact of fiberglass limbs.
The aesthetic rifle design is easy to grip and adds stability while shooting without a tripod stand.
Although there are many powerful crossbows available SAS still beat them with its remarkable features at a low price range.
In this article, Maddi walks you through a complete review of Manticore SAS Crossbow and the exact verdict who should buy it?
Manticore SAS Crossbow Specification
| | |
| --- | --- |
| Velocity | 210fps |
| Draw Weight | 150Lbs |
| Accuracy | 60 Yards (+/- 1-inch) |
| Power Stroke | Wooden |
| Width | 14" |
| Bolts (Recommended) | 14" (6 free in the package) |
| Length | 14.75" |
| Ratings | 3.9/5 |
A Few Prominent Features
Highly durable fiberglass limbs
Incredible 210 shooting velocity
Machined cams system & limbs
Divided foregrip with rifle design.
Aluminum barrel construction.
Auto-safety cocking mechanism design.
Pros & Cons
Pros
Vital impact on the animal, easy to cock with cocking device.
Best for archery and hunting both games.
The pure wooden made stock finished well.
Offers unbelievable accuracy even after 60 yards.
Cons
Doesn't include manual detail instruction.
Dot sight but without a dot insight.
Accessories with Manticore SAS Crossbow Package
Hunting Scope: 4×20 detailed crossbow scope which is best to clear focus on target from distance.
Crossbow String: The package includes a high-quality extra crossbow string for emergency replacement.
Footclaw: 1 x Footclaw beneficial in keeping the rifle stable while hunting.
Durable Limbs: Fiberglass made a set of limbs included for the quick replacement in the journey.
Crossbow Bolts: Manticore also gifted 6 x bolts 14" that you can use good 2,3 or 4 blade broadheads.
Detailed Review of Manticore SAS Crossbow
Manticore SAS Crossbow is a powerful weapon with 210fps velocity and designed for beginners. It features a wooden stock with fiberglass limbs and lasts long.
You can mount the crossbow scope on its rail for shooting far on distance. We hope your great Whitetail hunting experience with the SAS Crossbow but read the given highlights before buying it.
Power & Response
SAS Crossbow is built like a proverbial outhouse and offers unbelievable velocity with its smart setup. It is best to hunt whitetail and deer in 60 yards distance using the heavy-duty broadheads.
The aesthetic design is fully suitable for large games.
Crossbow is featuring 150Lbs draw weight which leaves a good impact on the hard targets. 14-inch bolts are recommended for shooting through it.
its impact also varies with the weight of broadheads. As you add more grains on heads 75 to 125, it becomes more deadly to its target.
User Comfort
SAS crossbow entirely designed keeping the user's comfort in mind. it's light-weight, compact, and reliable with the wizard hunting stock.
Aircraft-grade material used for manufacturing the barrel, it supports foregrip for adding more stability as well as comfortability.
Furthermore, cocking the crossbow is extremely easy with the regular cocking devices.
Molded stock used for giving a base to the crossbows, it is entirely crafted in wood and finished -well.
Stringing the limbs is easy for beginners, it also includes an extra string that you can utilize for instant use. Archers also can use crossbow slings for carrying or hanging it on trees.
Noise Suppression
Manticore crossbow is designed in a recurve model and includes parallel limbs.
Commonly the parallel limbs preferred by expert hunters because they produce fewer vibrations in shooting setup.
Moreover, you also can use noise dampeners if you still feel any vibration or noise.
Quality of Optics
Where we discuss the optic sights available with the SAS Crossbow, Manticore offers a 4×32 mm scope which is compatible with the Picatinny rifle rails.
It is capable of aiming at the target from over 60 yards distance. The scope features brightness options for getting suitability with the environment.
On the other side, you can use the premium scope on the SAS crossbow because it supports Picatinny and weaver both settings.
The calibrated set for up-to 40 yards distance makes the focus clear and pretty beneficial in aiming perfect on targets.
Safety & Guards
The most loved thing about the manticore SAS Crossbow, it is based on an auto cocking safe mechanism.
It features a safety switch which will be lifted off as soon you have pulled back the string enough. Two-click sound also ensures that the safety switch is on.
Its little recoil helps in shooting the target with accuracy which is actually beneficial for novices. Besides all these features, the SAS Crossbow is also featuring built-in knobs for using the rope cocker.
That means beginners can safely cock it.
Brand & Affordability
Manticore is the world's #1 outdoor brand and expert in producing incredible crossbows.
it has been working with a team of experienced engineers and guarantees the safe use of their products.
SAS Crossbow is a remarkable weapon which is specially designed for small games in range. It offers a good impact with the heavyweight broadheads and hunters can get clean prey easily.
SAS Crossbow is available at a cost-effective price range.
The package includes a crossbow, 6 bolts, a quality scope, Footclaw, and a set of limbs for under 120$.
Brief Summary of Manticore SAS Crossbow Review
Our editor highly recommends the Manticore SAS crossbow, especially to the entry-level archers. It is the best crossbow under 120$ and worth it due to exclusive features.
SAS suits large games including deer and you can shoot through bow using heavy broadheads. We think it is a perfect choice for archers who have little heed to hunting.
Important FAQs
What kind of distance is a safe "Kill Zone" for deer? (50 yards)
If you are really thinking to use a crossbow for killing deer out of 50 yards distance then this is a very stupid object. It isn't sure 100% kill but deer maybe a little injured and that will heal in days.
Can I take down a buck with it?
Yes, you can absolutely take down a buck using the Manticore SAS Crossbow. it offers a great impact with the 210fps shooting velocity. Furthermore, you also can use it for hunting deer in range.