Best Crossbow Bolts for Hunting Deer Reviews [2022]
A reliable bolt is essential for aiming at different targets while hunting or just target shooting.
Despite having the best crossbow, the accuracy of your aim is dependent on the quality of the crossbow bolt; you are using.
So using the best crossbow bolt is an essential thing if you are going on a hunt.
However, it is not an easy task to find the best bolts for hunting or target practicing as factors like bolt weight, length, material, stiffness, nocks & heads, etc. play a primary role.
That's why we have shortlisted the top-rated crossbow bolts for deer hunting along with their detailed reviews and our expert buying guides.
Top Picks For Best Crossbow Bolts For Hunting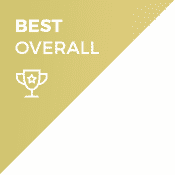 ★★★★★
Carbon Express PileDriver

Bone crushing penetration.
Availalbe in 20 and 22 Inch.
Fletched with 4 vanes.

★★★★★
BARNETT Outdoor Carbon

Half-moon shape nock.
Carbon construction.
Optimal accuracy and target penetration.

★★★★★
M.A.K 20″ Carbon Bolts
High quality carbon fiber shafts.
Halfmoon shape nock.
Perfect for hunting or practice.
Buyer's Guide for Buying Best Crossbow Bolts
Paying proper attention to different factors like quality, length, material, and weight is very important because these things decide the fate of your hunting trip and can change your trip into a nightmare if not considered while buying.
Since different types, materials and various varieties of bolts are available that confuse the hunters while purchasing bolts for crossbow.
That's why we have written a detailed buyer's guide for helping hunters to find the best hunting bolts.
Understand about different parts of a Crossbow bolt
A crossbow bolt consists of various parts, each part plays an important role and also affects the speed, range, and penetration of the bolt.
Below I have described all the parts of the bolt in detail with all the important things that you need to know.
Shaft: The shaft is the long round rod of a bolt where all the parts of bolts are attached. A shaft can be referred to as the main body of an arrow/bolt. Since bolts are used for hunting, so shafts are supposed to be strong, light, and less flexible. That's why they are made using aluminum or carbon, or sometimes a combination of both materials is also used. The quality of a shaft is dependent on the spine of the bolt; the stiffer an arrow is, the more spine it would have. The weight of the shaft is calculated in grains per inch or directly in grains, and it can be converted into grams by multiplying it with 0.0648.
Fletching/Vanes: Fletching or vanes are the aerodynamic wings attached at the end of the shaft, typically made of flexible materials like plastic or feathers. The length of vanes is directly proportional to the length of the shaft the lengthier shaft is the lengthier fletching are.
Fletching has the following functions;

Keep the bolt in its direction.
Stabilize the trajectory during flight.
Prevent pitching or swaying to the left-right.
Nock: Nock is a small portion at the very end of the shaft that helps keep the shaft in its place when you put the arrow in a nocked position (just before shooting the arrow). Typically plastic or aluminum is used for manufacturing nocks, but for powerful crossbows, experts always recommend aluminum nocks because they can handle much more stress and force as compared to plastic.
Head: The head of a bolt is one of the main parts and is of 2 types;

Broadheads: Broadheads are sharp blades that have the potential to penetrate the skins of animals and cause them serious injuries. Broadheads are used for hunting the animals and are not supposed to be used for practicing.
Field Points: Field points are also referred to as target points and are used for target practice. They cannot penetrate the animals and don't do enough damage, so they can't be used for hunting. They usually weigh between 120 to 150 grains and are screwed on the top of the shaft.
Choose bolt material very wisely
Shafts are made of different materials, with more evolution in the field different materials are being used for the construction of shafts specifically for different hunting needs.
Some hunters prefer aluminum bolts while others opt for carbon bolts due to different reasons, such as stiffness, weight, and prices.
Below are a few commonly used shaft materials along with their uses in the real world.
Wood: Wooden shafts are the least expensive but are good for practicing especially for beginners, these shafts are being used for hunting and in wars since ancient times. Modern hunters don't use these shafts for hunting as they are less reliable as compared to modern carbon and aluminum shafts.
Carbon: Carbon shafts are stiff, stronger and can penetrate very deep, and are much more durable than any other type of shafts. Hunters recommend carbon arrows due to their good characteristics. The only downside to carbon shafts is they can be broken down if hit very hard on some tough surface.
Aluminum: Aluminum bolts are typically considered for target practice since they are less expensive than carbon made bolts. They are also heavier and are a good choice too for the big games. The downside with aluminum bolts is they can bend very easily and are not as durable as carbon bolts are.
Fiberglass: Fiberglass bolts are comparatively newer and are less popular, but they outrank all types of bolt materials because of their performance, durability, and construction. These bolts are expensive but are worth the money as they can last much longer than any other material.
Determine the bolt weight needed for your hunt
Bolt weight is a vital factor while choosing the best bolt for hunting. Since there are certain conditions where the same weighted bolt can't be used, for instance, in a windy condition shooting a lighter bolt may cause the bolt to bend and ultimately miss the target. So, you need to be picky about bolt weight when buying bolts.
The weight of the crossbow bolt is measured in GPI (grains per inch) and the bolts are classified into three categories, light, standard and heavyweight.
Let's have a deep understanding of these different categories of bolts.
Light: Lighter weight bolts have to weight of less than 350 grains and they carry less kinetic energy but they fly much faster and straighter however they are also most affected by the weather conditions like wind and rains etc. These bolts are best for practice while can be utilized if you are hunting in wide-open areas where the flat shoot is required. Moreover, if your crossbow is not made to shoot lighter bolts then it will transfer energy to limbs causing intense vibrations that cause noise while shooting, and can also damage your bow. So, before purchasing lighter weight bolts make sure to check your crossbow manufacture's guidelines for bolt weight.
Standard: Bolts that weigh between 350 to 400 grains are categorized as standard bolts, these bolts are perfect in terms of speed and kinetic energy and have the ability to penetrate deeply into the target. These bolts are also less affected by weather conditions, that's why these are considered all-rounder and are best for target practice, shooting, and hunting trips. Moreover, most of the crossbow manufacturers also recommend standard weighted bolts.
Heavy: Crossbow bolts having a weight of more than 400 grains are considered heavy bolts, for shooting these bolts you need a really powerful crossbow. The best thing about these bolts is they can be used in bad weather conditions such as fast wind. Hunters who plan to hunt big games like elk, bear, and moose, etc. use these bolts due to their very deep penetration. However, the downside of heavyweight bolts is they lose their trajectory very fast and a lot of experience is needed for hitting distant targets precisely.
Pick the suitable nock type for your bolt
A nock is a small piece of aluminum or plastic attached at the starting of the bolt. It is the connecting point used to keep the bolt and crossbow string.
Nock plays a very important role in the shooting of your bolts as this part is responsible for the proper transfer of energy and true repel of bolt towards the target.
There are four types of nocks as listed below, you should choose one based on the recommendations of your bow manufacturer.
Flat: The simplest type of nock is a flat nock with a flat end. Using this nock style you can align the arrow in any position you want. But archer needs to take care as he/she line up for shoot since are chances of slipping string that can cause a free fire and damage to bow as well as injury to the archer.
Half Moon: A little advance and more secure nock style than flat nock is half-moon. It has a deep groove that prevents the string from slipping off the bolt. It also helps to align the vanes along the crossbow rail ensuring a smooth bolt flight.
Half-Moon Hybrid: This style of nock has multiple grooves and is a step further towards security and ease, it provides both security and freedom to position vanes in multiple positions.
Lighted: With lighted nocks, you get to know where your bolt flew and where it hit the target. These are the nocks that emit some sort of light when they are released from the bow. Lighted nocks are best for dark conditions as light helps to track and retrieve the bolt very effectively.
Wisely choose bolt length and diameter
Typically crossbow bolts range between 16 to 22 inches. Different crossbows have different requirements/recommendations for bolt length.
As we know bolt weight is measured in grain per inch so a small length means less weight and less weight means less penetration and other effects on your bow as we discussed above.
So, while purchasing bolts make sure to read your crossbow's manufacturer recommendations, because a shorter bolt's tip may interact with your bow's rail while a longer bolt may not be supported by your crossbow.
Bolt's diameter also affects the flight of the bolt, the less thick your bolt will be the faster it will travel as thin bolts experience less air drag and can penetrate deeper.
Quick Comparison of Best Crossbow Bolts
| Products | Length | Nock | Price |
| --- | --- | --- | --- |
| BARNETT 16075 | 20-Inch | Half-Moon | |
| Carbon Express | Many Sizes | Full-Moon | |
| M.A.K 20" Carbon | 20-Inch | Round | |
| BloodSport 20-Inch | 20-Inch | Half-Moon | |
| TenPoint Omni-Brite 2 | Many sizes | Half-Moon | |
| TenPoint XX75 | 20-Inch | Full-Moon | |
| 85 Summit Archery | Many Sizes | Round | |
| 42 Carbon Express Maxima | 20-Inch | Full-moon | |
| EXCALIBUR CROSSBOW Quill | 16.5-Inch | Full-moon | |
| TenPoint Pro-V22 | 20-Inch | Full-Moon | |
1. BARNETT 16075 Outdoor Carbon Bolts

Barnett 16075 outdoor bolts are specially constructed using premium carbon and composites that give a long-lasting life span to the shaft without any bending.
Engineers decided 20" length to give the entire shaft including a sharpen bit and nock that is considered fair for having a standard drag weight. Here I have described all the characteristics of BARNETT 16075 bolts and you should go through once.
A more loved thing of the carbon constructed bolts is the half-moon nock shape that is considered more beneficial in releasing the arrows with perfect accuracy and velocity.
13.78 grain per inch is the standard weight best for more penetrating in the object. BARNETT 16075 bolts are also more well-known due to great compatibility.
If you are using GHOST 350, Penetrator, Jackal whitetail Hunter ll or Raptor FX3 then these boots are the perfect choice for hunting. Orange and black combination of color looks more attractive and best for hunting in daylight.
BARNETT is a more popular brand that is more well-known due to the durability and affordability of its products. 5 years manufacturing experience is enough for getting accuracy in bolts and the brand I also give warranty with its products.
Pros
20-inch length, standard built tip, and nock.
Carbon construction, X-accuracy, affordable.
Half-moon shape nock, available in 5-packs.
Cons
There is no CON about the BARNETT Bolts.
Conclusion
BARNETT Crossbow Bolts are constructed using premium carbon that is long-lasting. It is the perfect choice for hitting the targets even up to 50 yards away. Affordable package with a pack of 5 arrows I don think you may stumble it.
2. Carbon Express PileDriver Fletched Bolts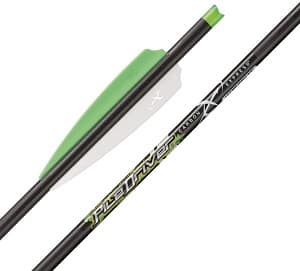 Carbon Express introduced PileDriver bone-crushing bolts that are specially designed for killing the targets. Its heavy grain weight enhances the kinetic energy with the great knockdown power.
Superior target penetration beside the powerful knockdown we really think that you will enjoy in the PileDriver bolts. Here are all the characteristics of Carbon Express PileDriver Bolts and I think you should go through once.
PileDriver Carbon Bolts are constructed using carbon and its premium composites. Long and durable shaft ensures a deep long-lasting experience. Heavy grain weight creates more kinetic energy and enhances penetration power.
Greater knockdown power beside the durable shaft enhances its impacts on the Archery Targets. PileDriver Bolts are constructed using carbon and composited using highly premium technology.
It ensures the spin consistently and enhances accuracy while hunting. +/- 0.004 Inch precision repeats the maximum consistency.
The Shaft of the Fletched Bolts is 20" long which is considered reasonable to use in all the crossbows.
Carbon Express is a famous bolt making a brand that is famous due to the durability and affordability of its products.
PileDriver Fletched Crossbow Bolts are its great hard work and specially produced for Aggressive hunters.
Pros
Bone crushing penetration due to extra grain weight.
20" standard shaft size, easy to release from all bows.
Half-moon nock shape, available at affordable price.
Cons
The shaft is not too strong, available in just one color.
Conclusion
Carbon Express pileDriver Bolts are highly made using carbon through the premium technologies. If you are looking for standard size bolts for your crossbow then I think these fletched bolts are the best choice. Furthermore, the package is affordable and the hunters get long-lasting experience.
3. M.A.K 20" Carbon Constructed Crossbow Bolts
M.A.K 20" highly durable crossbow bolts are light weighted cans and mostly used for hitting the target even from 50+ yards distance.
Shafts of these bolts are specially constructed using carbon that is harder and can cross the targets without bending. The entire 20" length of the shaft is supported with the 8.8mm diameter carbon layer.
125 grain-heavy tips of the M.A.K carbon bolt enhances the penetration. Laser light technology is also involved in the 0.003 Inch great precision.
Carbon constructed M.A.K bolts are fletched with the 4 inches and fully waterproof TPU version. The field point is removable and purely made using aluminum.
M.A.K is a more popular brand that introduces top quality bolts every year. a 20" long carbon constructed crossbow bolt is its great hard work and specially built for the aggressive hunters.
A pack of six bolts is available at an affordable price.
Pros
The standard size shaft length, easy to remove bits.
A more durable and affordable choice for hunters.
Cons
The shaft is not too much stronger than it can bend.
Conclusion
M.A.K carbon-built bolts are specially constructed to kill the targets. These bolts are constructed using highly premium carbon through several laser technologies. If you are a beginner and looking for affordable and durable bolts then it is the best choice.
4. BloodSport 20-Inch Crossbow Bolts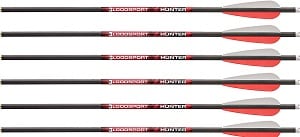 0.003 laser light technology aligned crossbow bolts is another production of BloodSport. These are 20-inch long high-speed arrows specially designed with the extra aerodynamic shape for friction-free moving.
Engineers added everything that you want in your arrows while hunting. Here are all the characteristics of BloodSport Crossbow Bolts and you should go through once.
BloodSport bolts are 20-inch-long arrows with a highly durable shaft. These arrows are specially designed for hitting the target even from up to 50 yards distance. Relatively light-weighted bolts with the highly sharpened bit nock.
Broadheads, which are also a more loved fact in hunting, attach your favorite portable broadhead on these bolts very easily.
The half-moon shape of the back knock makes it more comfortable while drawing in bows. if you are using standard crossbows then the 20-inch length is enough for deep penetrating and precision.
BloodSport is a more popular brand that has been surviving target hunting games for several years. After the production of highly durable crossbows for the hunters 8110003 Bolts is another effort for more precision.
With the pack of 6 bolts, the hunters are getting an affordable package.
Pros
The standard length of shaft, durable carbon constriction.
0.003 inch straight hitting, extra penetrating, 9.0 GPI.
Affordable package, smooth outer, portable broadheads.
Cons
The shaft is not as durable as it should be for hitting.
Conclusion
For having more precision in hitting the target, you just need a good-quality crossbow and durable bolts. So here your effort ends because BloodSport brought the stronger bolts at an affordable price. If you are a beginner then we think there is no better than these arrows for you.
5. TenPoint Omni-Brite 2 Carbon Arrows
TenPoint Carbon arrows are simple and deep penetrating bolts made to hit targets from an unbelievable distance. 68-Grain aluminum insert construction with the superior red Omni nock.
It features six micro-grooves from other bowstring channels. I have described all the characteristics of Omni-Brite Carbon arrows in the given description.
20-inch-long carbon arrows are the best crossbow bolts with speed and accuracy. Precision is highly tested by the laser technology that has been promised for its quality and perfect accuracy.
Outclass feature of TenPoint bolts is their patented 2.0 Omni nock that allows having three-string alignments in one time.
Smartly engineered TenPoint graphite each bolt holds specific weight that may give it. The shaft is highly inspected within 0.003-inch and hand-sorted for weight tolerance.
If you really want to kill the target then you also can attach more air-dynamic broadheads with it. Highly durable fletching of the TenPoint Omni also plays an important role in the accuracy of these bolts.
Sharp and aerodynamic shaft tips easily can get up in the archery targets. Easton promised for the 100% precision and accuracy of these bolts.
Each bolt is balanced with 10.5% FOC and Hand Sported for Consistency.it is highly fletched with fusion shield cut Q 21 with the 3-INCH vanes.
TenPoint is a famous brand that is more popular due to the affordability and extremely long performance of its products. Omni Brite 2 Arrows are great products and the brand tested it from several regulations.
If you are a crossbow user then you also can attach broadheads with the shaft.
Pros
Light-weighted, fast and perfect+ accuracy.
Replaceable broadheads, Omni nock system.
Test by manufacturers, affordable package.
Cons
Knicks are really harder to change with broadheads.
Conclusion
TenPoint Carbon constructed arrows specially built to kill the target. Each bolt is perfectly weighted with the specific weight and 0.003-Inch target tested. It is best 20 inch crossbow bolts which is the comfortable length and for easily dragging an Omni 2.0 nock proves more beneficial to insert three strings in one.
6. TenPoint XX75 Magnum Crossbow Bolt

Finding highly durable and penetrating crossbow bolts ends on the TenPoint XX75 Magnum because it is constructed using highly premium carbon and composted through laser striating technology.
20-inch length beside the half-moon shape back knock is considered suitable to all types of crossbows. Here I have described a few characteristics of TenPoint XX75 Crossbow Bolts.
XX75 Magnum bolts are a bit more in grain weight that helps in penetration in targets.4-Inch fletching in balanced shaft beside the carbons inserts enhances the accuracy impacts more than the standard bolts.
Aerodynamic aluminum constructed shafts enhance its impact on the target. SUPER BRITE Omni-knock features six micro-grooves which is best for forming the bowstring channels.
It eliminates the indexing problem associated with the moon and helps to capture the knocks. TenPoint is a more popular crossbow bolt producing company that has been surviving its highly durable products for several years.
XX75 Magnum crossbow bolt is its great hard work and here I have described a few characteristics that you should read once.
Pros
20-Inch length, aluminum insert, aero directional.
Constant accuracy, carbon construction, affordable.
Cons
Magnum bolts are not durable enough for hunting.
Conclusion
TenPoint XX75 Magnum bolts are the highly durable arrows for all the crossbows. It is specially designed for highly penetrating impact and easily can be dragged out. Pack of 6 bolts is available at an affordable price.
7. 85 Summit Archery Bolt Lighted Nock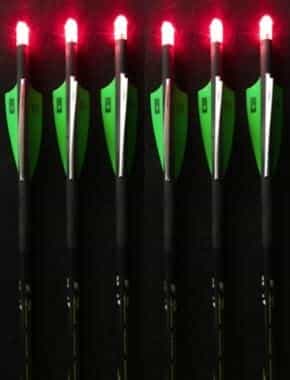 If you are looking for some unique and stylish bolts for hunting then Summit Archery presents top quality arrows for all the bows with the brightened nocks. These arrows are available in both 20" and 22".
No need to worry you are using a big crossbow and the entire shaft of these bolts is crafted by the premium carbon. Here I have described the construction of Summit and its characteristics that you should read once.
The more loved thing about the Summit Archery bolts is its brightened metal back nock that can be switched on and off. These bolts are 100% made using carbon that builds a stronger shaft.
Front-end construction is added that offers Extreme Front of Centre and precisely provides accuracy actually it wants. Half-moon nock shape is beneficial for the crossbow users and they can easily adjust the string in it.
These bolts are coming with brass inserts and a red-light nock. It helps to locate arrows even in the dark. Lighted nocks can be turned off easily.
Summit is a more popular bolt making company that has been serving crossbows, archery and bolts for several years. it is more popular due to the durability and performance of its products and the Bolt Lightened Nock is its amazing production.
Pros
LED Red light nocks, available in 22" and 20" sizes.
Fast and accurate, brass inserts, affordable choice.
Cons
LED lights have to be replaced after a specific period.
Conclusion
Summit Archery Bolts are more sold crossbow bolts due to the brightened knocks and longer-lasting performance. These arrows are available in both 22" and 20" sizes and you can buy according to your bow. Furthermore, the package for the pack of 6 bolt is cheaper to buy.
8. 42 Carbon Express Maxima Bolt

Carbon Express Maxima is a deluxe carbon constructed bolts with the dual-spin diamond wave. Highly penetrating these arrows are specially designed for the pro hunters and long been known for its perfect tolerance.
Engineers specially crafted these bolts using unique technology and worth memory with excellent performance. Read the given description, we dragged it technically construction beside features and you should go through.
2 Spines in 1 arrow which also have been the foremost aspect of the bolts manage the energy well and make it recover faster.
20% spin sooner retains more speed in the bolts and delivers a good accuracy. Carbon Express Maxima bolt is 100% made using carbon that provides 2X speed and tighter group.
Dual weight forward TM technology added unmatched accuracy and long-lasting performance. It involves the fusion of several corban materials for the swift recovery.
BUFF TUFF® company is also involved in the finishing that offers an incredibly strong outer layer to the arrows and ensures the utmost durability.
The Back Shaft section of the carbon maxima bolt provides ultimate stiffness and unrivaled spine consistency. Each bolt is tested by the arrow straighten laser technology and claims for the standard measurements.
It boosts the precision of 0.0025 inches that is coming with both moon and flat nocks. Maxima bolt is the great presentation of Carbon Express offering maximum satisfaction to customers with affordable packing and packages.
Diamond wave Tech mostly visited the back shaft and has ensured a hard shaft. Maxims Bolts are the highly durable arrows for the crossbows and made for deep penetration.
Pros
100% carbons construction, faster speed & well accuracy.
Tighter groups, also available in both flat and moon nocks.
Buff tuff Technology approved, ensured stiffness, affordable.
Cons
Carbons bolts are not available with the field tips as shown.
Conclusion
Carbon Express Maxima arrows are the perfect crossbow bolts that meet the standard specification. These bolts are specially made for killing the targets with deep penetration. If you are using a compound crossbow then we think it is the best affordable choice.
9. EXCALIBUR CROSSBOW Quill Micro Bolt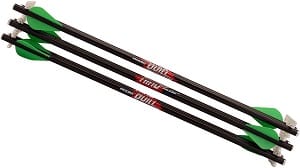 Quill Micro Bolt with 16.5-inch length is specially designed for the Excalibur Micro series of the crossbows. It arrived ready for accuracy and high-speed performance.
Hit the target even from 60 yards using the minor standard bow. Here I have described a few technical aspects of EXCALIBUR Bolt and you should go through once.
Leading arrow manufacturers Easton® ensured the Quill Micro Bolt met the industry standards and featured a reinforced spine.
Dual spin for managing the energy and you will really be feeling the exact throw using these bolts. S2 Inch vane with the 3A offset provides excellent performance after combining the broadheads.
Quill Micro arrows are purely made using carbon and meet with the durability and long-lasting experience. The perfectly finished black shaft with the shiny outer layers enhances the life-span.
The back metal piece is flat and has a threaded insert that can be easily pulled using a T hand. Having great wisdom behind the Nock and fletching color you will find all the arrows in the same color.
The straightness has inspected the 0.003-Inch with the bolt diameter 0.347 Inches. If you are looking for carbon constructed crossbows then I think there is no more than the Quill Micro Bolt.
EXCALIBUR CROSSBOW is a famous bow and bolt making company that has a great grip on long-lasting construction of products.
Quill Micro Bolts are specially designed for the Excalibur Micro Crossbow series. These bolts are available at an affordable price. Here is the list of PROS and CONS of Quill Micro Bolts.
Pros
Engineered by the famous Easton and Excalibur brands.
Reinforced Spine, blistering speed, lovely flatback insert.
2-Inch Vanes with 3A, high tolerance inspect, affordable.
Cons
Quill Micro Bolt doesn't include the field point.
Conclusion
EXCALIBUR CROSSBOW is a trustable brand that has been making bows for several years. Recently it started constructing the Crossbow bolts and the Quill Micro Bolt is its great effort. Furthermore, it is an affordable choice for hunters.
10. TenPoint Pro-V22 Carbon Crossbow Bolts
Pro-V22 is another great hard work of the TenPoint brand and it tried to place all the standard specifications in these crossbow bolts.
436-grain consistent accuracy and deep penetrating with the graphite construction enhancing the life span and performance of this bolt. Here I have described all the characteristics of 14 TenPoint Pro-V22 Bolt and you should go through once.
22-Inch longer and 436 weighted Pro-V22 bolts are constructed using highly premium technology for the shot after shot accuracy.
It is fitted with the 24-grain aluminum insert and the TenPoint also added red brightened Omni-Nock. These bolts are fletched slightly offset with the Easton BTV vanes.
TenPoint bolts provide 10.5% FOC and great accuracy and the engineers designed six micro groves for forming the 3 bow channels.
It offers 2.25 groups at 50 yards with an 8.9% loss of speed. These bolts are made with precision in mind and sharper with the bit for giving the aerodynamic shape.
0.003 inspected shaft for the straightness and hard sorted tolerance with 2 grains per dozen I don think you will find in any other bolt.
TenPoint Pro-V22 bolts are supplied with the pack of 6 and each bolt is measured 22-Inch which is considered a perfect length for bolts to use in all bows.
TenPoint is a famous crossbows and bolt making company that has been doing its services for several years. Carbon Pro-V22 is an amazing package with a pack of 6 shafts available at an affordable price.
If you are using compound or any type of bow and want to kill your target then I think it is a perfect choice. Here are a few technical aspects of TenPoint Pr0-V22 and I think you should go through once.
Pros
22-inch standard length size, pretty fast and accurate.
Aligned best with the straightness inspected 0.003 inches.
Hand-sorted, consistent weight tolerance, affordable.
Cons
There is no con reported yet about the TenPoint Crossbow bolt.
Conclusion
After going through the review about the TenPoint Pro-V22 we don't expect anything negative because these bolts are precisely designed and constructed. Laser technology tested each bolt and also suggested compound bows. Instantly buy it if you really want to kill the target.
The Conclusion
Of course, this review was very helpful for beginners and all the hunters and we hope you have found a strong and sharp crossbow bolt with an affordable package. Each brand is reliable and tried its best for giving more satisfaction to the customers. Furthermore, also comment which crossbow bolt have you bought?